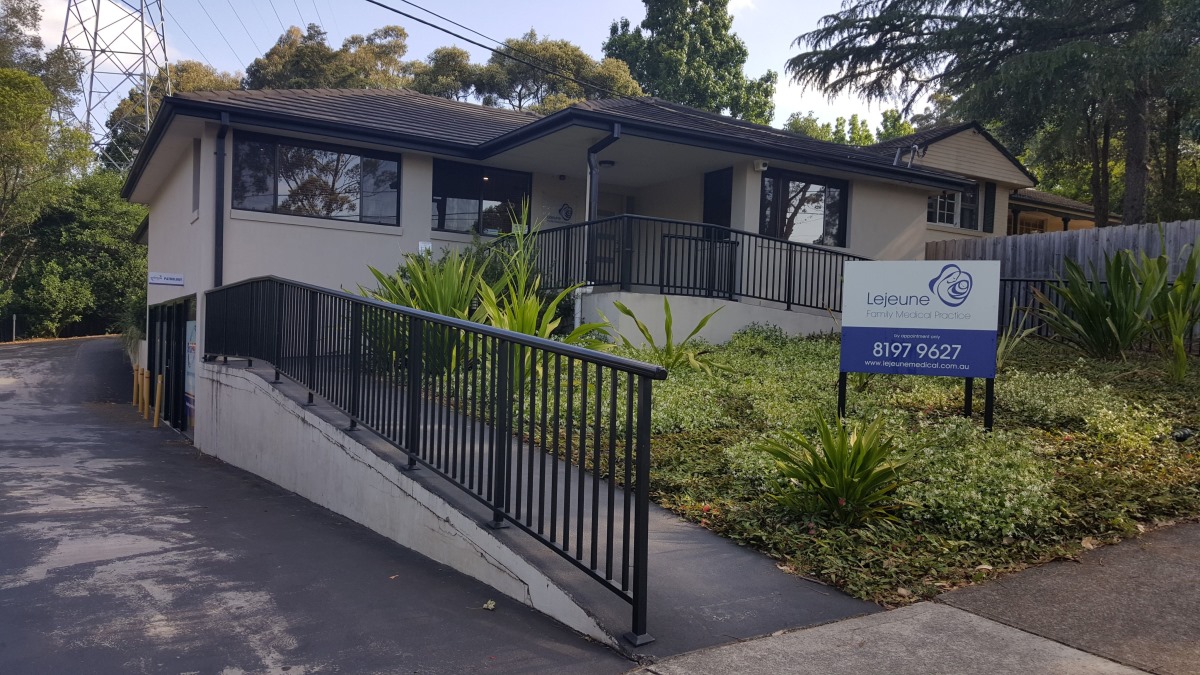 50 Murray Farm Road, Carlingford, N.S.W. 2118
After Hours Doctor Service
Phone Interpretation Service
(click on the link below to go directly to the website for help with interpreter services)
Immediate Phone Interpreting
(24 hours, every day of the year)
Phone: 131 450 (within Australia)
Phone: +613 9268 8332 (outside Australia) 
(24 hours, every day of the year)
 Phone: 1800 131 450
OR Use the App on your phone OR Online: Google Translate
 Jo Joh,GP Synergy: Registrar Profile
Lejeune Family Medical Practice
Address:
50 Murray Farm Road, Carlingford. NSW 2118   Map reference – click on this link to view in Google Maps:
Phone: 02 8197 9627
Fax: 02 8197 9628
Website: www.lejeunemedical.com.au
PHN Boundary: WentWest.  https://www.wentwest.com.au/  Western Sydney Primary Health Network.  WSPHN
Zone: We are located north of Parramatta, in Carlingford (near West Pennant Hills) easily accessible from the M2.
Practice Summary
Practice Opening Hours:
Weekdays: Monday to Friday 8.30am to 6.00pm
Saturdays: 9.00am to 6.00pm
Sundays: Closed
Number of Doctors in the Practice: 7
GP Trainer: Dr John James supported by all other GP's
GP Registrar Allocation:  1.5
Practice Manager: Joanne Faehrmann & Kylie Willsher
Other Staff: Office Manager, 3 Nursing Staff, 5 Reception Staff
Trains Medical Students: Yes
Billing Arrangements: Blended Billing
Computer Software: Best Practice
Accreditation: Australian General Practice Accreditation Ltd (AGPAL)
Practice Overview
Our practice is owned by Dr John James and supported by Dr Lynne Bastock, Dr Susan Tugwell, Dr Janice Ku, Dr Shannon Armstrong-Kempter, Dr Rummana Siddique, Dr Narges Zolfaghari. We are an enthusiastic team of longstanding, friendly staff with a loyal patient base. We are fully computerised and offer full-time registered nurse support, dedicated consulting rooms and a fully equipped treatment room, on-site pathology collection. We provide a wide range of medical services to a diverse multi-cultural area, offering registrars an ideal teaching and learning environment. The practice has a "learning culture" as they support registrars, medical students and nursing students.
Practice Description
Our practice is located in Carlingford and is walking distance from the M2 and Carmen Drive shops. There is also off-street parking. We are open Monday to Friday 8.30am-6pm and 9am-6pm on Saturday, closed public holidays. We offer on-site pathology collection. The building is modern and well equipped and registrars have their own dedicated consulting rooms. We are fully computerised with Best Practice and have superfast 20/20 ethernet internet access.
We run by appointment with an on-line appointment booking systems called HotDocs, which also integrates on-line consults, scripts, referrals and results.
We provide home visits and nursing home visits within our local area.
Practice Staff
We have very loyal and long term staff. We have 3 nursing staff covering the treatment room, a Chronic Disease Management team. Iron infusions, prenatal co-sharing and skin cancer clinic, diabetes education workshops.
Our practice also hosts Case Conferencing with Endocrinologist & Diabetes Educators, Cardiologist and a Psychiatrist on a regular basis.
Practice patient base and services
Our patient demographic covers all age groups from birth to aged care.
We offer a full range of services and procedures such as; general health screenings, all types of immunisations/vaccinations, minor surgery, pregnancy tests, ECG's, Spirometry, ear syringing, work injuries along with Pre-employment assessments.
Information for Registrars
Registrars are expected to work during the core hours of Monday to Friday 8.30am to 6.00pm.  Saturdays with another doctor 1:4.  Home/Nursing home visits or after hours coverage is optional
The practice has a very experienced GP Supervisor and formal allocated teaching sessional times are scheduled in each week. All other GP's in the practice also support the training program and provide assistance as needed.
COMING SOON:  Lejeune Family Medical Practice's podcast, where we place our talents at the service of life! Designed for patients, families, doctors of all specialties, trainees, students, affiliated services such as primary health networks and training providers. Episodes will cover general topics relating to health, medicine, news, bioethics, interviews with professionals and patient stories. With thanks to the team at www.healthily.com.au for providing their audio from their GoShare platform
The practice email is not guaranteed to be monitored and is not our preferred means of communication. There is a risk that important clinical information sent to this address may be missed or not picked up, particularly time-critical information. In addition, we urge all patients to carefully consider the issue of security before sending medical information via non-encrypted email. Please do not use the normal post for forwarding time-critical information. We encourage patients to phone the practice or make an appointment to discuss clinical issues.
Better Health Care is Our Mission
50 Murray Farm Road, Carlingford, N.S.W. 2118